Obtain an Air Compressor in
Cleveland OH
While Cleveland may be a big city, we aim to treat you like family at Dearing Compressor & Pump Co. Need an air compressor or pump immediately? We've got you covered. 
Whether you are looking to purchase or rent an air compressor, we have options to suit your needs. Our shelves are stocked with a variety of quality rotary-screw compressors and reciprocating compressors from top brands such as:
Champion

CompAir

Gardner Denver

Jenny
You can expect exceptional customer service in regards to all your air compressor needs. Here, at Dearing Compressor & Pump Co, we are aware of how busy you are, so we pride ourselves on providing 24/7 customer service. Additionally, we provide next-day delivery of parts, and our knowledgeable technicians respond quickly to any problems you may have.
Not only do we have lubricated and oil-free air compressors, but we also have these additional products and services: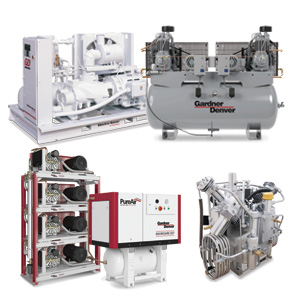 Contact Us
Call 1-800-850-3440 today to inquire about our affordable air compressors and to learn more information.

Fueled by customer confidence since 1945.